For agencies that do not wish to manage their own servers,
Agilaire can provide a complete managed and supervised
hosting solution. Agency staff can access their system over
the Internet and receive regular emailed report and alarm
notifications. No more installing software updates, and
automatic backups are performed and delivered to you
on a defined schedule.
IT-Friendly
Tier 3 hosting- Dedicated or Virtualized
Redundant power, network
Secure connections
Intrusion Protection Systems (IPS)
Regular Security / Vulnerability Reviews
Fast recovery in any situation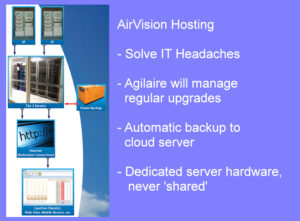 Full Functionality
All available AirVision options including:
Automatic Data Validation processor
Full Editing / Reporting
Asset / Work Item Tracking
AgileWeb
Sync configuration management
Ambient and/or Source reporting
MyAQI and Tech Assist Mobile Apps
Carefree
Updates are automatically loaded, tested,
and you'll never have to run another update
installation again. You can also access your
data from any location, based on a preset
security profile.
Adaptable
Web portal can be used to provide links to
regulations, SOPs, manufacturer's manuals,
as well as field forms and worksheets.
For more information please download the brochure AirVision Hosted or Email info@agilaire.com for detailed information and pricing estimates that will meet your needs.