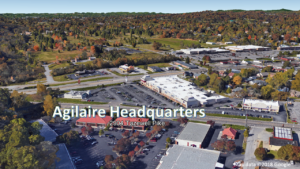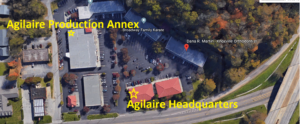 Agilaire, LLC
2904B Tazewell Pike, Suite A
Knoxville, TN 37918
Getting to Agilaire from the Merchant Road area:
Get onto I-75 South (from most hotels, turning past the bridge to the left). Move to the middle lane, ignore the first ramp on to I-640 West and take the next ramp/exit to I-640 East.Take the next exit (Broadway). Go to the second light and get in the middle (right-most left-turn lane). Turn left onto Broadway, staying in the inside right lane take the ramp to Tazewell Pike. At the bottom of the ramp, get immediately onto the shoulder and turn before the "Speed Limit 40″ sign into Fountain City business park. Our building is on your immediate right and we are in the first office.
Getting to Agilaire from Central Avenue area:
From Cedar Lane turn left onto Central Ave. Pike at the intersection of Cedar Lane, Merchants Dr., and Central ave. Pike. From Merchants Dr. turn right onto Central Ave. Pike of the same intersection. Stay on Central Ave. Pike until it turns into Dutch Valley Dr. Continue on Dutch Valley Dr. until it ends at Tazewell Pike. Turn left on Tazewell Pike, and go through under Broadway. Just pass the end of the ramp on the right, turn right into the Fountain city Business Park. We are in the first office of the first building on the right.
Hotels, Inns, B&B, Air Bnb Neaby:
Hampton Inn & Suites -Knoxville/North I-75
5411 Pratt Road, Knoxville, Tennessee 37912
Phone: 1- 865-689-1011
Holiday Inn Knoxville North Merchants
5634 Merchants Center Boulevard, Knoxville, Tennessee 37912
Phone: (865) 687-8989
Hilton Knoxville
501 West Church Avenue, Knoxville, Tennessee, 37902
Phone: (865) 523-2300
Hyatt Place Knoxville
530 South Gay St, Knoxville, Tennessee, United States, 37902
Phone: (865) 544-9977
AirBnb Options Nearby