Mobile devices are becoming a key component of our daily work. We get our email, message to our co-workers, maps, data lookup, etc.
Why not check the status of your air monitoring system with your phone or tablet as well?
Android ~  (TechAssist in Google Play Store)
iPhone ~ (TechAssist in iTunes)
Requirements
Platform: Android or iOS phone or tablet.
Remote: Model 8872 with internet access (static/public IP)
Enable TechAssist Web Service (app can not access any device not explicitly enabled/authorized).
Integration 
TechAssist does just that- it communicates with a web service hosted within your Model 8872 logger, and gives you most of the functionality of the Logger Toolbox, including:
• See current readings and flags for all channels.
• Put channels in maintenance or offline
• See current calibration status
• Initiate or abort calibrations
• Review digital input/output status
All, of course, using a secure username / password login.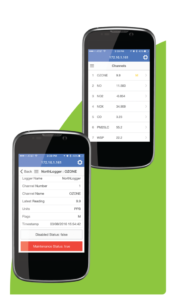 Questions?
Email: info@agilaire.com